News
World first eyeConnect unveiled at Frankston Hospital
World first eyeConnect unveiled at Frankston Hospital In a world first, The Royal Victorian Eye and Ear Hospital (the Eye and Ear) recently unveiled at Frankston Hospital revolutionary new technology to connect patients who present at an Emergency Department with eye injuries or conditions in outer metropolitan, rural and regional areas with specialist advice without having to travel into East Melbourne. Eye and Ear CEO, Mark Petty said the exciting initiative would empower Peninsula Health's Emergency Department clinicians who are not ophthalmic specialists to manage patients locally, with the assistance of a remote Eye and Ear specialist where required.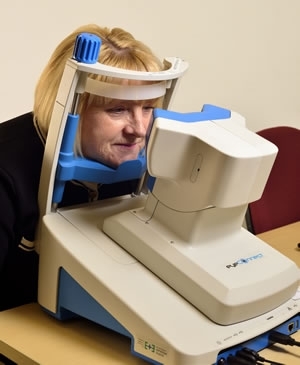 "We are very excited to announce this world first initiative which will allow our doctors to provide immediate advice on whether the patient needs to be transferred to the Eye and Ear ED, or if they can be managed in their local area," he said. "This will reduce pressure on centrally located services and prevent patients from travelling long distances unnecessarily," he said. In 2014, 2,700 people travelled from the Mornington Peninsula to the Eye and Ear for urgent treatment. Peninsula Health's Clinical Director of Emergency Services, Dr Shyaman Menon, said the device is a game-changer for clinicians in regional and rural communities.
"After looking into the statistics with the Eye and Ear, we found that we could have treated many of these patients if we had access to this new telemedicine technology," said Dr Menon. "eyeConnect is a win-win for both patients and hospitals," said Dr Menon. Developed by local medical technology manufacturer, Ingeneus and the Eye and Ear with funding from the Victorian Government, the ground-breaking eyeConnect device will collect patient data, visual information and images of the eye.
Together with information from the eyePressure device, a disposable tonometer which indicates the zone of a patient's eye pressure, this data package is sent to the Emergency Department at the Eye and Ear for review by a specialist doctor who can then provide advice on where the patient should be treated. "We are proud to introduce this service and provide specialist support and advice to clinicians in outer metropolitan, rural and regional areas, to assist them in managing their patients locally where possible and prevent them from leaving their community unnecessarily," Mr Petty said. For more information and vision of the device in use, please download footage via the following link or call Ingeneus on +61 3 9558 6334: Click Here To Watch The Video