News
Further patents issued in key regions for the eyePressure device
Ingeneus CEO, Richard Walmsley is pleased to announce that Patents have now been issued in France, Germany, Italy, Spain, the United Kingdom, and Indonesia for the eyePressure device. The eyePressure is one of the key elements of the innovative eyeTelehealth platform.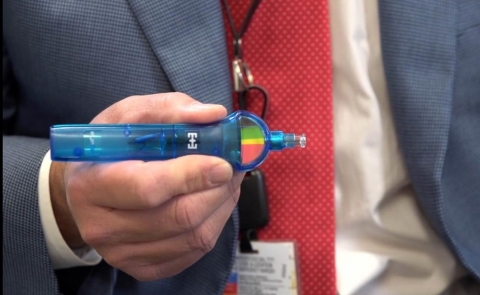 "The issuing of these Patents is great acknowledgement that the eyePressure device is novel, new technology. It is the first of its kind not only in Australia, the US, China and Vietnam, but also in several European countries, the United Kingdom, and Indonesia," Mr Walmsley said.
"Having these patents lends greater credibility to our product in these important markets," he said.
The eyePressure, a disposable eye pressure assessment device targeted for use by primary healthcare practitioners, is one of the elements of the eyeTelehealth platform. This platform and device is making eye care easy in primary health, while extending the reach of the specialist through ophthalmic telemedicine.
"High eye pressure can be an indication of serious eye diseases such as Glaucoma, a leading cause of blindness. Early detection is crucial," Ingeneus CEO, Richard Walmsley said. "Hence the need for the eyePressure – making early detection simple for primary healthcare practitioners."
The other elements of this innovative platform include:
eyeConnect – a remote telehealth assessment system that collects information including: patient history, acuity test results, intra-ocular pressure assessment and high-resolution photographs
eyeTelecloud – a secure cloud environment that allows authorised personnel to access, view, and report on patient data from eyeConnect systems.
For more information, please email enquiries@ingeneus.com.au or call +61 3 9558 6334. Alternatively, visit www.eyepressure.net.au and www.eyeconnect.net.au for further details on these game-changing medical devices.
24 March 2021